XRP, the native crypto coin of US-based blockchain payment company Ripple, recently suffered a price drop that caused the coin to lose its key support of $ 1 and move down to trade around the $ 0.84 number to which she's acting in the moment. The third phase of its uptrend is expected for the currently seventh-placed digital currency, however, as the coin has set a long-term target of $ 10.
XRP statistical data
The market cap of XRP is around $ 39,907,760,012.
9,918,740,236 USD is the trading volume of XRP.
The circulating supply of the coin rotates around 46.14 B XRP.
XRP price value
At press time, the price of XRP is around $ 0.8638, up + 7.42% over the past 24 hours.
XRP price analysis
The first quarter was comparatively good for the transfer coin from Ripple. However, the first month of the second quarter of the current year has so far worsened the situation for XRP. Over the past 24 hours, the price value of XRP has deteriorated sharply as the digital currency fell to $ 0.68 yesterday.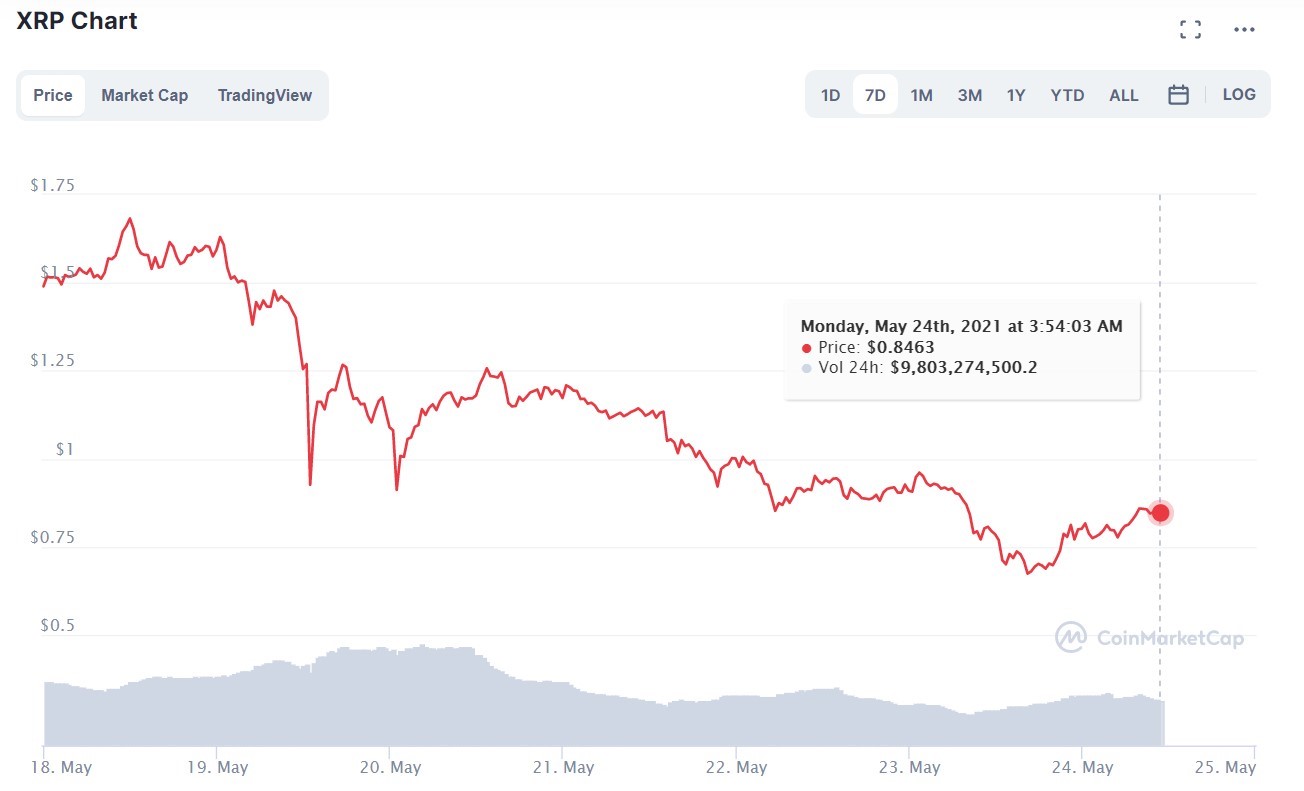 However, after that crash, Ripple's native digital currency bounced back as the price of XRP fell above the $ 0.80 level and is now heading for the $ 1 mark again. It's currently up more than four percent, which means it's trying to get the upward momentum you want to start an uptrend. Right now it is facing the USD 0.9 resistance which must be broken if the coin is to break above USD 1.
Third Phase Of Uptrend Expected For XRP: Can Price Reach $ 10?
There are some cryptocurrency analysts who believe that the seventh digital currency is likely to enter its third phase of the uptrend in which it can reach a massive milestone.
According to a cryptocurrency analyst named CryptoBull2020, the cryptocurrency is expected to enter the $ 10 area in his third bull run.
#XRP got off:

$ 0.11-0.78 (~ 700%)
$ 0.17 to $ 1.96 (~ 1,000%)

The next step will be from $ 0.82 to $ 10.

– CryptoBull2020 (@ CryptoBull2020) May 22, 2021