PancakeSwap (CAKE) is a decentralized trading platform based on the Binance Smart Chain (BSC) and uses an automatic market maker mechanism to provide liquidity. It is the No. 1 project for automated market maker (AMM) and liquidity mining for Binance Smart Chain.
KeyFi, a platform that mainly manages decentralized finances (DeFi) Assets, tweeted that KeyFi is Start its native token on Binance Smart Chain (BSC). From March 28, 2021, his KeyFi token will also be listed on PancakeSwap.
Most decentralized financial cryptocurrencies are based on the Ethereum network (ETH) for transactions such as Uniswap. However, the skyrocketing price of Ethereum gas fees has led developers to look for other blockchain networks with cheaper transaction costs, such as Binance Smart Chain (BSC).
According to Coinmarketcap, PancakeSwap ranks 44th with a Market capitalization of $ 2,399,154,349 among many cryptocurrencies. CAKE has shown an amazing performance over the past week, up 55.60%.
PancakeSwap (CAKE) price analysis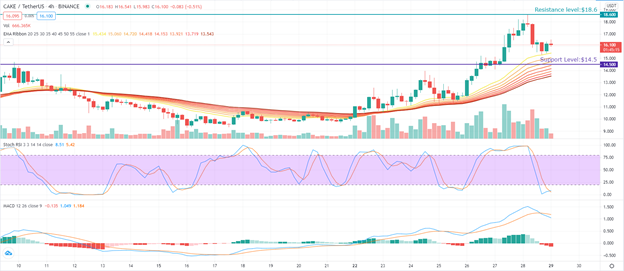 Source:CAKE/USDT 4-Hour via TradingView
Judging by the 4 hour candlestick chart, the bulls are persistently defending the support level of the 20 exponential moving average. After March 28, PancakeSwap (CAKE) suffered significant losses after hitting a record high of $ 18.60. Therefore, this area will be an important psychological barrier for PancakeSwap.
The transaction price of CAKE / USDT is hovering above the Exponential Moving Average band. However, both the flattening moving average and the MACD bearish crossover indicator above the zero axes suggest that the bulls are now gradually losing control of their dominant position.
The stochastic RSI is below the oversold level of 20, the bearish side of the oscillator. However, the blue K-line has combined with the yellow D-line in the oversold area to form a bullish signal. In the short term, CAKE is likely to form a short term upside rebound. If the bulls can push the crucial close above $ 18.60, bullish momentum could cause CAKE to hit its all-time high of $ 30.
On the contrary, if CAKE's price is still suffering from a large number of sell orders on the way up, CAKE / USDT will test the 20-day Exponential Moving Average (20-EMA) of $ 15.5 support. If the bulls fail to defend $ 15.5, the next support line to test is $ 14.50.
Image source: Shutterstock