In this article, we are going to share our own opinion and that of the market on the Polygon MATIC price prediction for 2021 and beyond. We will share a comprehensive fundamental analysis and price history of the coin to date. Plus, we'll answer some of the hottest questions about MATIC at the end. So, without wasting any more time, we can jump right in.
MATIC in brief
Matic Network was created in October 2017 after a white paper on the Plasma Framework published by CEO Jaynti Kanani, Sandeep Nailwal and Anurag Arjun. The couple saw that Ethereum wasn't fully scalable and so they used PoS side chains connected to the root chain.
Here, each individual chain interacts with its own blockchain via its agreement method, blocks validators and independently creates new "child chains". The Matic Network (MATIC) is a project that works to solve the scalability problems of the Ethereum blockchain.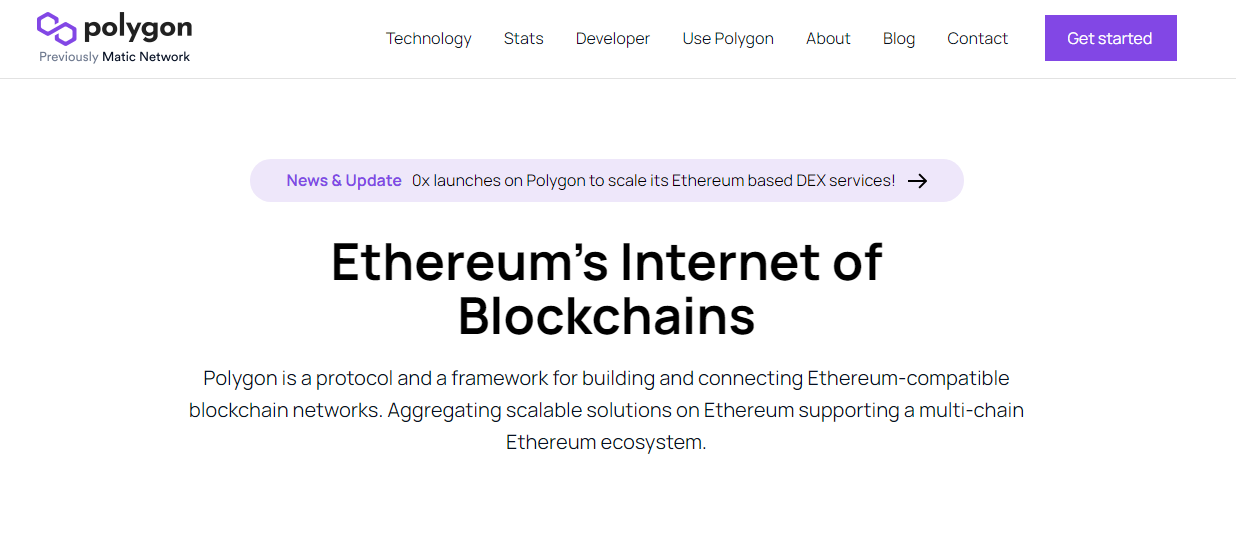 They want to improve scalability by demonstrating side-chain deployments that they believe will result in lower transaction costs, faster confirmations, and a number of other benefits once the scalability concerns have been addressed. They are also one of the most recent ICOs on the Binance Exchange launch pad.
The Matic network also aims to improve usability without sacrificing the benefits of decentralization and additionally addressing scalability issues. They also look forward to leveraging the current developer community to offer better dApp features and a better user experience.
MATIC price history
At $ 0.004 on April 29, 2019, the Matic network began its crypto adventure. The token began to climb over and over again. The price reached $ 0.03 with some fluctuations by the end of May and continued to decline to $ 0.01 by early June. The token remained constant at a price of $ 0.02 through the end of July.
What was interesting was that the token fell to $ 0.01 in early August and, with small adjustments, stayed at the same price level until November. In early December, Matic effectively hit $ 0.04, gaining investment interests. By mid-December, the token had been dropped sharply to $ 0.01. Matic was trading at $ 0.014 in late 2019.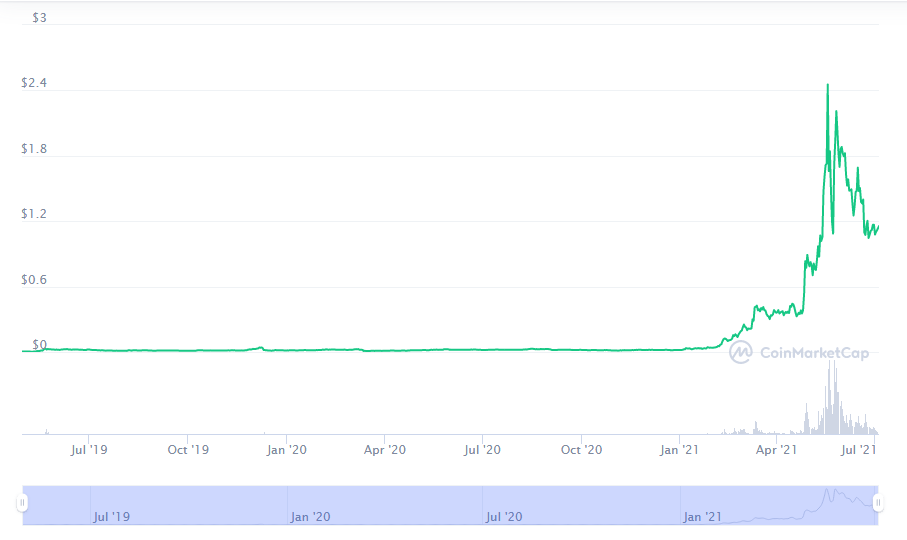 In short, in the early hours of January 2020, the Matic continued to trade at $ 0.014. After that, the price began to fluctuate and hit $ 0.02 in February. The coin fell dramatically to $ 0.006 by mid-March due to the Covid-19 epidemic, while the crypto market collapsed. Additionally, towards the end of May, the price began to rebound and resist at $ 0.025. Additionally, the token hit $ 0.031 in mid-August and settled at $ 0.012 in early November. Matic was swapped for $ 0.017 in late December 2020.
The MATIC price smashed a new coinage in 2021, which is between $ 0.94 and $ 2.1, showing the highest recovery rate of any crypt, including Bitcoin or Ethereum monsters. The majority of currencies are expected to sail in just 24 hours after the big drop in prices recently. MATIC has endured and sustained its trend, where many traders consider Polygon to have a strong future.
Matic price prediction 2021
Matic continued to trade at $ 0.0018 through early January 2021. Additionally, the price started rising towards the end of January, reaching $ 0.043. On March 12th, MATIC suddenly hit an all-time high of $ 0.5089 and moved on. The token has been shown to work successfully. But in the last few months the market collapsed again.
In 2021, a huge morphological assumption was observed that lowered the MATIC price. Partnerships and alliances will increase the scalability of the network to 100,000 transactions per second. As we move on, we can see that the MATIC price could rise to $ 3. The polygon ecosystem is very popular with many projects.
Polygon (MATIC) price forecast 2022
Trading in 2022 could begin to rise if the price hits positive highs by the end of the year. If so, the original annual price could be close to $ 2.9. On the other hand, if MATIC closes this year, the following year could be boring. And so trading can resume at $ 2.548 by 2022.
Critics in the crypto world believe that the price of Polygon is linked to the price of Ethereum. And MATIC can reach $ 3 by the end of 2022, given the supporters of Ethereum. If the currency is exposed to supply pressure, the token could drop below $ 0.8. But the cryptocurrency could trade at $ 1.5 by the end of 2022 amid conventional market pressures.
Polygon Price Prediction 2023-2024
Polygon is an Ethereum company that aims to solve the difficulties of the Ethereum network. In addition, high transaction costs and sluggish transaction times are two major challenges facing the Ethereum network. Polygon, on the other hand, aims to address Ethereum's short transaction time.
The price could reach $ 4 by 2023 and 2024 could start off with a bang. The expected price is expected to exceed the $ 7 mark by 2024.
MATIC price prediction 2025
In five years' time, Matic could hit a new high by breaking its previous price records and is expected to be among the top 10 cryptocurrencies. Various internal innovations and collaborations can contribute to your success. If the network could keep working on the TPS, it could help ETH holders and result in a $ 8 price hike.
However, the token can collapse if bears continue to push prices down due to a potential crash or outside controversy. This could bring the price down to $ 5.9. With its improved scalability and long-term success after 5 years, Matic can be exchanged for $ 7.
Expert opinion on Polygon (MATIC) price prediction
Below we share some thoughts on what the market is currently forecasting about MATIC coins. Let's have a look.
Capital.com
One of the intriguing predictions, Capital.com predicts, is that Matic will trade more than $ 5 by the end of 2025 and will trade more than $ 12 by the end of 2030, according to their estimates.
Trading beasts
By the end of this year, Polygon's projected maximum price will be around $ 1.8. By June, post-pandemic and vaccine availability will be booming around the globe, reflecting a strong peak and rising to a minimum of $ 2.33 by 2022 through 2022.
Digital coin price
The Digital Coin Price predicts that Matic will trade at a median price of $ 1.66 through the end of 2023 and could trade at $ 3.47 through the end of 2025.
Government capital
Gov.Capital's predicted price predictions are pretty amazing. Matic will trade around $ 5 by next year and $ 20 by the end of 2025.
Wallet investor
Based on Wallet Investor's predictions, the MATIC price prediction is expected to increase by $ 1,941 for 2021; it could rise by $ 14 by 2025. The turnover is estimated at about + 500% with a five-year investment.
Our MATIC price prediction
Polygon (MATIC) started 2021 at a price of $ 0.0018. In addition, the price began to rise. To improve the protocol, the community could partner with certain other projects and startups. Since Matic has unique qualities such as scalability, security can increase its user base and the price can rise with future measures taken to clear Ethereum congestion.
Therefore, new investors can change and market trends for MATIC can lead to new milestones being reached according to our developed MATIC price forecast. The cryptocurrency can thus get $ 2.1 by the end of the year.
Frequently asked questions about Polygon (MATIC) price prediction
Is MATIC a good investment?
While Polygon (Matic) future performance has different price targets, virtually all of them are positive. In 2021 and beyond, MATIC is considered a solid investment choice.
What will MATIC be worth in 2025?
According to the latest price predictions discussed above, we expect that we will hit a price level of USD 15 in the next 5 years.
Can MATIC reach $ 5?
Yes. It definitely can. The Coni has already experienced this price and our team hopes that it will reach this price level again in the next 1 to a maximum of 2 years.
Conclusion
In a modified plasma network, Matic wants to improve the scalability of Ethereum. Because scalability is so critical to the Ethereum network, there are several competitive projects out there aiming to achieve the same thing, but if Matic can offer the best answer, it will be one of the top blockchain projects.
The MATIC Group should develop quickly in 2019. But it not only shows MATIC's ability to advertise their goods, but also the belief and support of the community. And of course, the March 2020 Supreme Court decision to lift restrictions on cryptocurrency trading is ultimately good for Indian blockchain initiatives like MATIC.
The purpose of Matic is not yet established, although testnet development and alpha and beta mainnet deployment appear fine. The inclusion of staking is one thing the project could benefit from. They were promising from the start and could actually bring a whole new group of MATIC users and investors into operation.
The future of this coin looks bright. Let us know your views in the comments section below.