Ethereum (ETH) is up 9.72% over the past week, breaking the psychological price of $ 2,000 during intraday trading. The price of ETH was $ 2,056 as the second largest cryptocurrency continues to gain momentum.
Market analyst Lark Davis believes the Ethereum 2.0 upgrade will reduce daily emissions by 90% from 12,800 to 1,280. He explained:
"The other extremely important aspect of The Merger is that ETH will reduce daily emissions by 90%. Basically from 12,800 per day to 1,280 per day. Annual inflation from 4.3% to 0.43%. This corresponds to 3 Bitcoin halving, and is only months away. "
Ethereum 2.0, also known as Beacon Chain, was launched in December 2020 and was considered a game changer trying to improve the current proof-of-work (POW) Consensus mechanism on a proof-of-stake (POS) framework.
Davis also pointed out that as part of the ETH 2.0 upgrade, Ethereum would experience "triple halving," a hugely significant economic event for the price of the asset in the years to come.
Ethereum whales hold 60.52 million ETH on a cumulative basis
To About the provider of on-chain metrics Santiment:
"Ethereum whales, which hold between 10,000 and 1 million ETH in their respective wallets, now own a total of 60.52 million coins. This is the highest amount held by this tier in 5 weeks and corresponds to an accumulation of 1.65 million ETH in the last 6 days.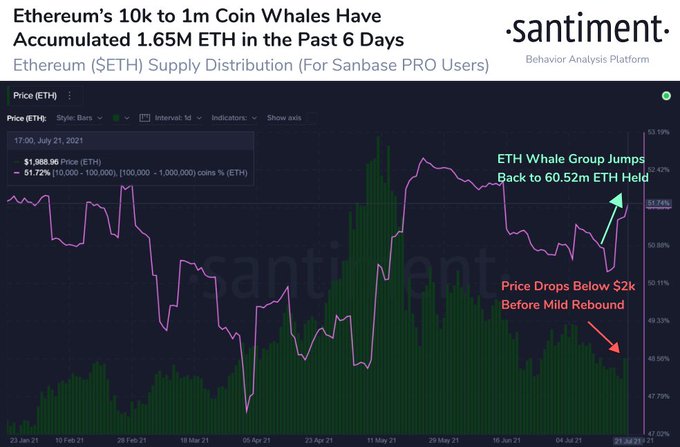 Therefore, ETH whales continue to invest in this asset, which indicates a high level of confidence.
Ethereum has made headlines due to its remarkable advances. For example, ETH has achieved an impressive return on investment (ROI) of 171% this year compared to technology stocks like Microsoft, Facebook and Apple. In addition, Davis had previously found that Ethereum is trading three times more value in the chain every day than Bitcoin.
Image source: Shutterstock