1 inch is displaydecentralized exchange (DEX) Aggregator built on Ethereum. It is a type of liquidity protocol that specializes in providing customers with the cheapest and most convenient transaction route by automatically aggregating offers from other decentralized exchanges.
Due to the different structures of various decentralized exchanges such as Uniswap, Aave, etc., the selling price of the same digital currency is slightly different on different exchanges.
Therefore, 1inch also sends transactions to various decentralized trading platforms to significantly reduce costs and reduce transaction loss.
Transaction platforms supported by 1inch include Uniswap, Kyber, Aave, Curve.fi, Airswap, mStable, Balancer, dForce Swap, 0x API, and 1inch's own Mooniswap.
1 inch Liquidity Protocol V2 version
The V2 version of the 1-inch liquidity protocol uses a mechanism that increases as the price declines to ensure that liquidity providers and 1-inch token depositors achieve higher returns through volatility.
It contains the 1 inch Pathfinder algorithm. The algorithm acts as a bridge to break up a stock market transaction by making effective use of the many "market depths" in the same protocol.
"Depth of Market" is an important indicator of the relationship between supply and demand of cryptocurrencies based on the number of publicly traded orders.
The V2 version of the 1 inch liquidity log completely cuts response time and helps users process transactions more efficiently.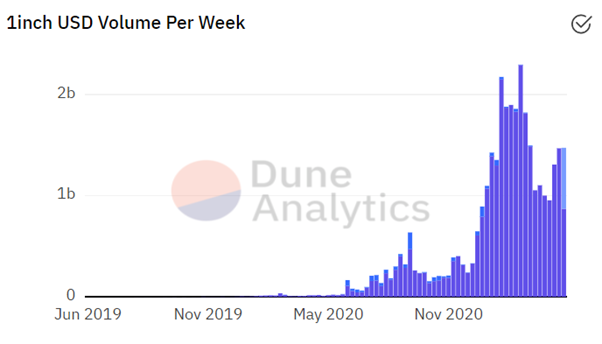 Source: D

une Analytics
According to the data from Dune Analytics, it can be seen that the transaction volume has increased by 1 inch after the end of 2020, mainly due to the introduction of the updated major version of the "V2" platform. 1inch's V2 platform adds some more complex transactions to the original base to keep prices down, e.g. B. the rescheduling of funds for loan collateral for the decentralized loan protocols Aave and Compound.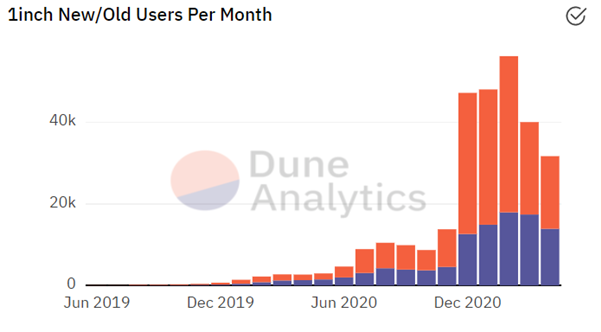 Source: D

une Analytics
Although the monthly ratio of new to old users has decreased, it remains at more than 1, which means that the number of new users is gradually decreasing from 1 inch. However, we believe that when V3 comes out in the near future, it will integrate more DeFi (Decentralized Finance) protocols, update algorithms, and make transactions cheaper. It will attract more liquidity,
1 inch token: 1 inch
The platform launched its 1INCH crypto token on Christmas 2020. The total circulation is 1.5 billion pieces. The main function of 1INCH token is to participate in governance, e.g. B. changing transaction fees, referral rewards, etc.
There are two types of governance: pool governance and factory governance. Users can use it to vote on the operation of the 1-inch platform and achieve immediate control.
As of April 30, 2021, according to Coinmarketcap, the token was valued at $ 5.45 with a market capitalization of $ 850,539,232.54. Out of the total supply of 1.5 billion, 156,671,623 1-inch tokens are in circulation.
1inch is not only an aggregator but also has its own exchange Mooniswap. Therefore, governance can be broken down into governance for liquidity agreements and governance for aggregation agreements.
Image source: Shutterstock