The supply of Bitcoin (BTC) on crypto exchanges has declined sharply as it hit a 28-month low.
Cryptanalysis company Santiment explained:
"The supply of Bitcoin on the exchanges has fallen to a level that has not been seen since May 2019. This is a solid indication of less selling pressure on BTC. "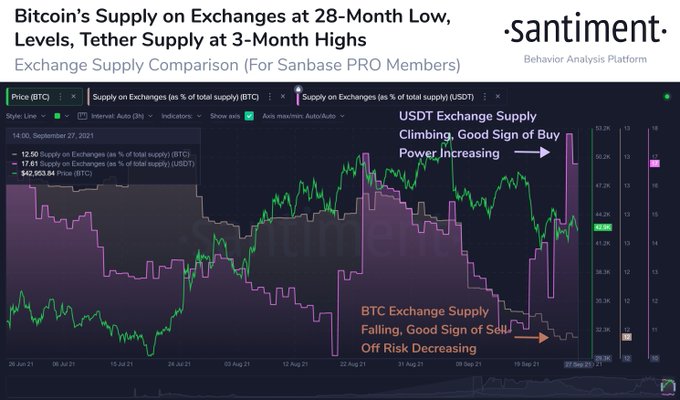 This metric shows that Bitcoin outflows from exchanges have been on an upward trend for more than two years. This means a holding culture as BTC is being transferred to cold stores and digital wallets for purposes other than speculation.
Recent research by on-chain metrics provider Glassnode has shown that a large portion of the BTC supply has been kept in cold stores. This was due to the fact that dormant BTC supply had bottomed out at 54.2% for at least a year.
The BTC Lightning Network is experiencing remarkable growth
Days after the Bitcoin Lightning Network hit a record capacity of 2,738 BTC, which is worth $ 116.3 million. Its ability has scaled to a new all-time high (ATH) of 2,904 BTC.
Yann & Jan, co-founders of Glassnode, explained:
"Bitcoin Lightning Network metrics continue to hit all-time highs this week. The number of lightning nodes reaches 15.6K, the total number of channels is up to 73K. The channel capacity increased by 22% to 2,904 BTC in September. "
The Lightning Network is a second layer integrated into the Bitcoin blockchain to perform off-chain transactions. As a result, micropayment channels are being used to scale the capacity of the blockchain to make transactions more efficient.
Therefore, transactions made on lightning networks are more easily confirmed, cheaper, and faster than those processed on the chain.
Will there be a trend reversal in the Bitcoin network?
Bitcoin is down 4.91% in the past 24 hours, reaching $ 41,803 during intraday trading CoinMarketCap. The price of BTC has been falling since the leading cryptocurrency suffered a daily loss of $ 10,000 earlier this month as over-indebtedness factors dominated.
Market analyst Lark Davis accepted that the Bitcoin network was continuously lowering its highs and that there were still no signs of a trend reversal.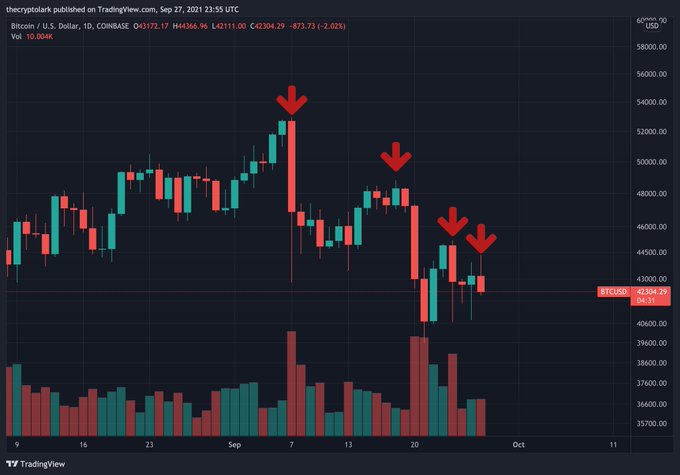 Lower highs and lower lows represent a downtrend, while higher highs and higher lows represent an uptrend.
Image source: Shutterstock