Today Bitcoin suffered its biggest slump in 10 days. According to Coinmarketcap, Bitcoin is down 11.19% in the past 24 hours, the first time this week it has fallen more than 10%.
Subject to the intensity Reduction of quantitative easing by the U.S. government due to the gradual recovery from the Covid-19 pandemic, but also China Restrictions Bitcoin's price rebounded weakly and continued to fall due to cryptocurrency mining operations and bearish news from other relatives. During the intraday, Bitcoin was trading at $ 32,627.
The bullish sentiment eased, adding to selling pressure; starting yesterday at 8 p.m. UTC time, the price fell from $ 35,484 to its lowest point of $ 32,351.
Not only the decline in sentiment among private investors, but also institutional investors saw a decline in demand for Bitcoin (BTC) during the sharp collapse of the crypto market.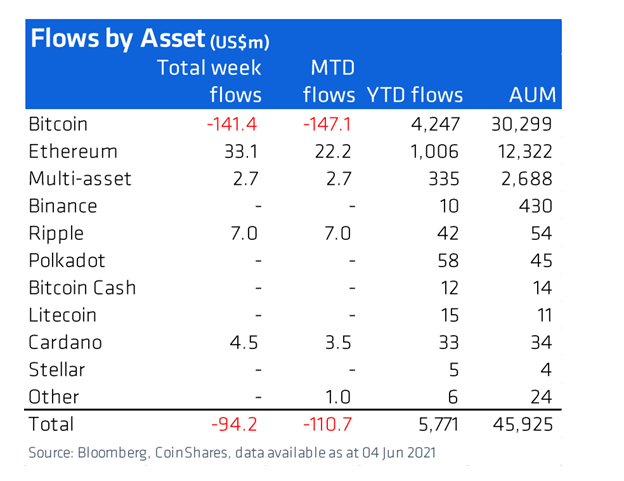 According to the Digital Asset Fund Flows Weekly report by analyst CoinShares June 7th, Institutional investors continue to reduce their long positions in Bitcoin, with the net outflow hitting a record $ 141.4 million last week.
However, compared to the June 1 report, Bitcoin's outflow was only $ 4 million per week. Last week, institutional inventory depletions rose sharply, almost 35 times last week, representing the largest single week outflow since 2021.
According to the Coinshares report, despite the sharp drop in the trading volume of Bitcoin products, ether is still relatively strong among investors. Last week, Ethereum continued to see a total inflow of $ 33.1 million.
As the second largest cryptocurrency in the market, ether traded at $ 2,514.32, and it's down as much as 9% today.
Despite the massive institutional sell-off, CoinShares highlighted that outflows account for less than a tenth of inflows in 2021:
"Outflows account for 8.3% of net inflows this year and remain minimal relative to outflows from early 2018."
According to statistics, investors are turning to the investment products Ripple (XRP) and Cardano (ADA). The total inflow of XRP is up to $ 7 million, which is the most significant weekly inflow since April, and the inflow of ADA is $ 4.5 million.
It is worth noting that these two types of cryptocurrencies have suffered losses today. Cardano (ADA) is down 11.26% in the past 24 hours. The hardest hit has been reduced by 11.40%.
Image source: Shutterstock