The price of Bitcoin has rebounded slightly, up 24.15% over the past week, according to Coinmarketcap.
During the intraday course, Bitcoin was trading at $ 36,954. The crypto leader with a market cap of $ 691,522,863,909. On Monday, Bitcoin price crossed the psychological barrier of $ 40,000 for the first time since June 16.
But despite the rebound in Bitcoin prices, there appears to be a lack of interest from institutional investors and institutional sentiment remains pessimistic.
Analytics firm CoinShares released a report on Monday, July 26th, titled "Digital Asset Fund Flows Weekly". The report shows that the net outflow of digital asset investment products has reached $ 28 million, which is the third straight week in outflows.
And the withdrawal of funds comes from Bitcoin. 85% of the total outflow of 24 million funds was drawn from Bitcoin, a virtual currency fixed asset, which is the largest outflow since mid-June.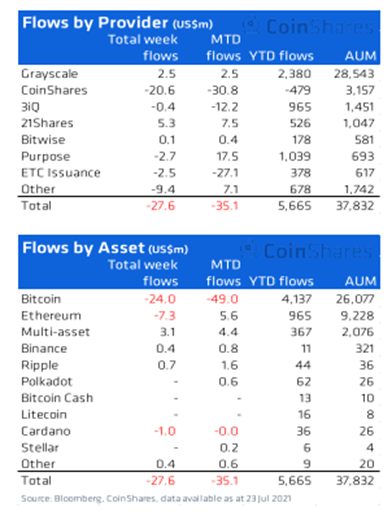 Coinshares stated that most of the funds had different outflows from Bitcoin and ether. Ethereum also drained $ 7.3 million in a week, while multi-asset funds bucked the trend with a total net inflow of $ 3.1 million:
"Last week's outflows suggest that the asset class is still in a negative mood despite recent constructive comments from key industry players."
Meanwhile, inflows of altcoins like Binance's BNB token and Ripple (XRP) were $ 0.4 million and $ 0.7 million, respectively.
Image source: Shutterstock