Bitcoin (BTC) rebounded sharply today to $ 53,000 after falling to a low of around $ 47,000 on April 25.
Due to the notoriety and excitement of Coinbase's direct listing, Bitcoin hit a record high of $ 64,895 on April 14. Since then, BTC hit highs of $ 64,800 has was in a downward state. The BTC bulls have been actively defending the support level of the 100-day exponential moving average for the past few days.
The gold price fell below the 100-day moving average for the first time since last weekend. The fall in the price of gold and the sudden bankruptcies of two Cryptocurrency exchange in Turkey may have contributed to people's panic that the crypto sector is a bubble, which caused the price of Bitcoin to drop to its lowest level in seven weeks.
At the time of writing, BTC is up more than 7.74% and trades at $ 52,910.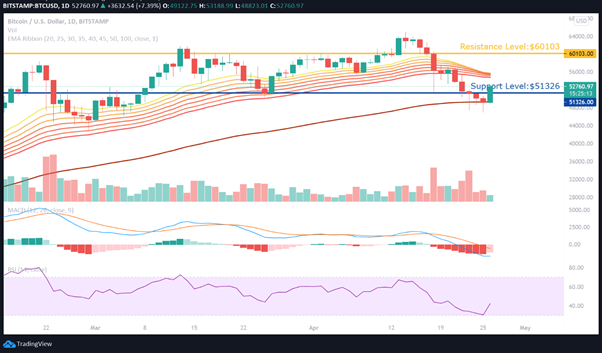 Source: BTC/USD Daily via TradingView
According to the Relative Strength Index, BTC's daily RSI hit the 30-mark oversell zone for the first time this year. The last time it fell below the 30 oversold zones was on March 12th last year and revised the indicator within the next six days. The weekly RSI has fallen to a level consistent with the correction level produced "Before Bitcoin went into hyperspace in the first part of the 2017 bull market".
The CEO and founder of Copia Wealth Studios Michael Sikorsky said in a report on Friday:
"Volatility has always created opportunity, and people keep being surprised by new highs month after month and year after year."
A sharp retracement in a bull market may not be a threat but an opportunity to buy the dips.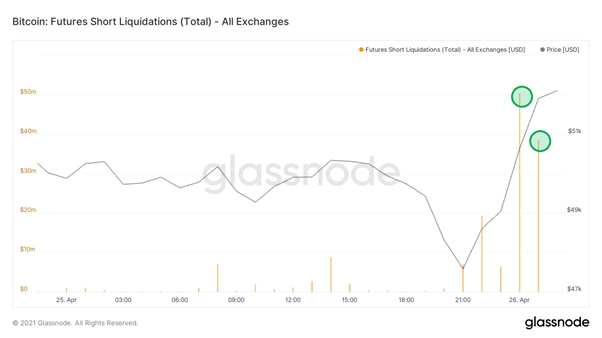 According to Glassnode data, the short liquidation amount for BTC futures was $ 88,696,765 early Monday morning when the market rose rapidly.
Despite a large retracement, Bitcoin's return since the start of the year is still very impressive. So far, there has been an increase of around 80% from USD 28,999 to USD 52,722.
This is advocated not only by individual investors but also by institutional investors. Institutes from the Goldman Sachs Group to the Bank of New York Mellon have increased their interest in cryptocurrencies. Large capitalization companies like Tesla and Meitu have added cryptocurrencies to their investment portfolios to hedge against currency inflation risks.
Image source: Shutterstock