Bitcoin (BTC) recently reached a significant milestone, setting a new all-time high (ATH) at the USD 66,900 level after a wait of 189 days. Still, the leading cryptocurrency faces a correction after pulling back to the $ 63,349 area during intraday trading CoinMarketCap.
Despite this trend, the owners remain unimpressed if history is to repeat itself. Lucas Outumuro, Head of Research at IntoTheBlock, explained:
"Is Bitcoin facing a deeper correction? Unlikely. Historically, after breaking an ATH, after a correction of more than 30 days, BTC rises 145%.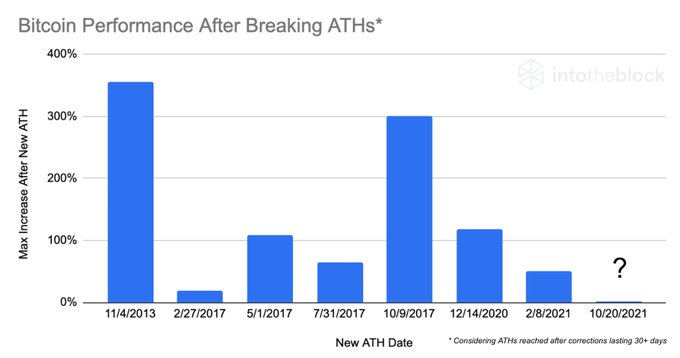 Santiment believes this retracement has generated both positive and negative responses. The provider of on-chain metrics noticed:
"Sentiment remains pretty high and the pattern of overwhelmingly positive vs. negative BTC comments has continued for the 9th straight week."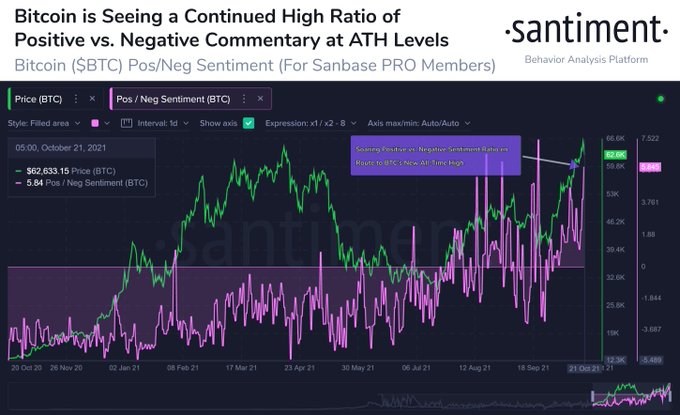 Advisory and education platform Eight recently stated that Bitcoin is testing its previous record high of $ 64.8,000. If there is a bounce, the next areas to watch based on the Fibonacci retracement tool are at around $ 75,000, $ 87,000, and $ 96,000, respectively.
How different is the current ATH price compared to the previous one?
Data analytics firm IntoTheBlock announced that the current transaction volume is seven times higher than it was in April. In addition, the current record price was achieved with less retail interest and less speculation.
IntoTheBlock pointed out:
"What is the difference between the April Bitcoin ATH and this one? 1. Transaction Volume: Bitcoin recorded + $ 700 billion in on-chain transaction volume this week. This is a 7-fold increase over April. What's more interesting is that 99.7% of this volume comes from transactions of more than $ 100,000. "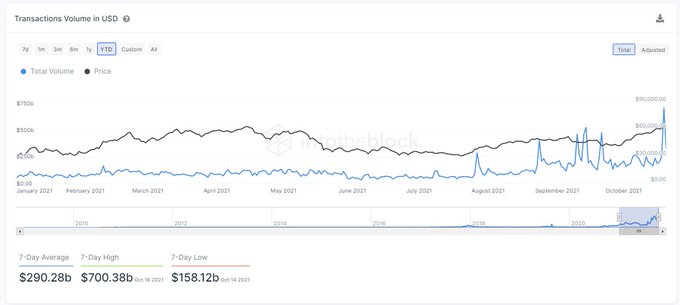 These large transactions have shown that a lot of money has flowed in over the past few months.
Image source: Shutterstock