In the past few weeks, the world's largest cryptocurrency has risen higher. Bitcoin has risen nearly 50% since July 21, when it traded below $ 30,000, to its current high of around $ 45,000.
The last increase came after the U.S. infrastructure plan was passed on Tuesday. Given the need for brokers to record customer transactions with the IRS, some have stated that the wording of the cryptocurrency law will result in a decline in bitcoin and other digital assets, while others have argued that cryptocurrencies will be legitimized as a mainstream financial asset.
Rejection of the Bitcoin price

On August 11th, Bitcoin (BTC) peaked at $ 46,743 but was rejected almost immediately. The current decline was preceded by severe short-term weakness. After that, BTC fell out of a rising wedge.
Since BTC hit a higher low on August 5, it's been going up faster. Currently, the value of BTC is at $ 45,511.64, up 1.62%. The trading volume for the past 24 hours is $ 35,362,983,942 along with a market cap of $ 854,335,907,393.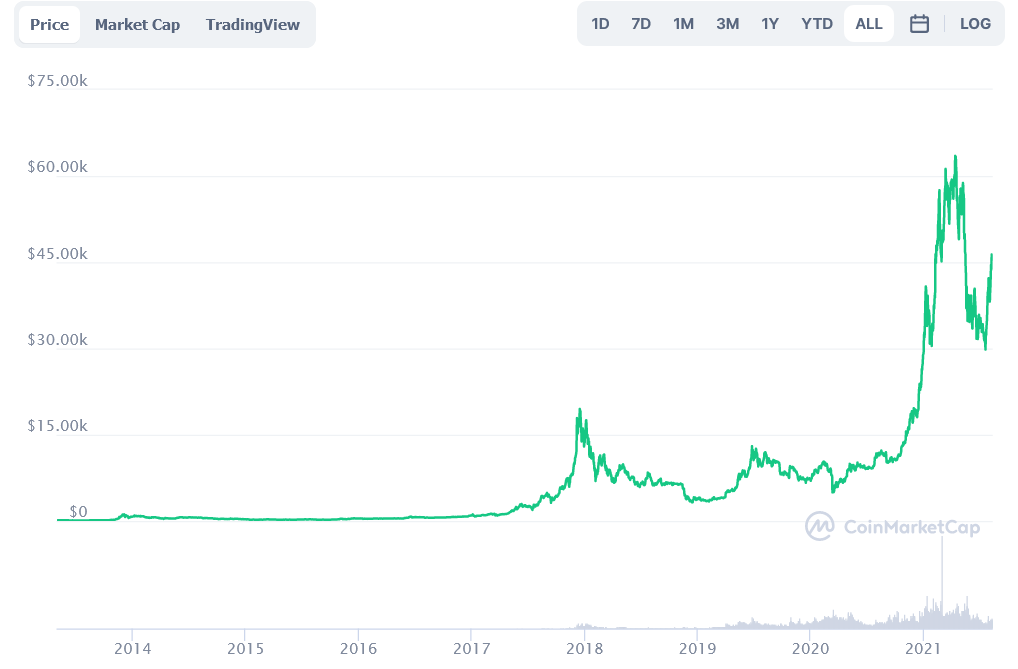 The record was set in the lower half of the range between $ 46,800 and $ 47,000. A confluence of fib retracement levels creates this area, which also serves as a horizontal area of ​​resistance. After that, BTC formed a shooting star candle and quickly fell to $ 45,000.
The decline was preceded by a bearish divergence in the RSI and the MACD has formed a lower momentum bar, indicating that momentum is gradually reversing.
Elon Musk's participation in the B-Word conference, at which he stated that it was likely that Tesla (NASDAQ: TSLA) would once again accept Bitcoin as a means of payment for vehicles, appeared to be the catalyst for the recent upward trend.
Bitcoin has already dropped to $ 45,000 after trading as high as $ 46,700.