Bitcoin price has soared to over $ 40,000. On July 27, Bitcoin (BTC) hit $ 40,370, marking the return of a major price milestone after a sharp day of surges.
Throughout the day, the pair held on to previous gains from the night before, circling around $ 38,000 before a new spike set in after Wall Street opened.
BTC price was back at $ 40,000 resistance within two days after pacing between $ 30,000 and $ 36,000 for six weeks. The increased commitment of traditional banks and entrepreneurs such as Elon Musk and Michael Saylor is directly responsible for the rising BTC price, according to the crypto community.
Elon Musk and Michael Saylor have become two of the most powerful figures in the cryptocurrency world. TIE and eToro USA have released a new sentiment-based study that shows the breadth of their influence.
Rumored Amazon's interest in cryptocurrency drove the price soaring this week, but the internet titan later turned down the reports.
BTC volatility hit the headlines again
Bitcoin's (BTC) volatility has resurfaced after the original cryptocurrency briefly retook the $ 40,000 mark before falling to a level of $ 39,000. After a two week downtrend that started on July 15th.
At the time of writing, Bitcoin ranks # 1NS Cryptocurrency. Currently the price is from BTC is $ 40,203.36 with a 7.68% change. The trading volume over the last 24 hours is $ 38,077,658,058 along with a market capitalization of $ 753,329,171,065. The token's circulation is 18,769,031.00 BTC.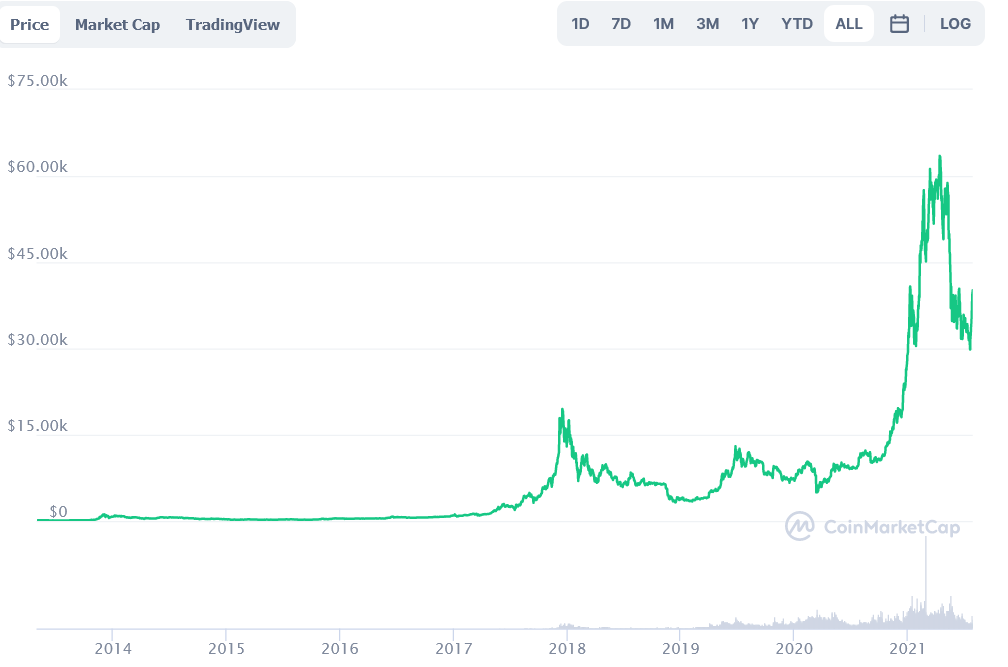 According to current price indicators, Bitcoin could hold onto its continuous support of $ 30,000 to $ 40,000. Bitcoin has yet to see a positive change of $ 20,000 before it can hit its previous $ 60,000 fame. The sudden urge to overcome immediate resistance does not coincide with the $ 30,000 corridor, although it seems like a good indicator.
In a recent study of portfolio managers and equity strategists conducted by CNBC, 44 percent of respondents believed the price of Bitcoin will fall below $ 30,000. The remaining 56% of investors were more positive, with 6% expecting Bitcoin to hit $ 60,000, close to its all-time high of $ 65,000.