Since Bitcoin (BTC) fell from an all-time high (ATH) of $ 64.8,000 in mid-April, 6.2 million coins have been held at a loss, representing 33% of supply.
Market analyst Lark Davis explained:
"According to Glassnode, there are currently an incredible 6.2 million bitcoins in a position of unrealized losses."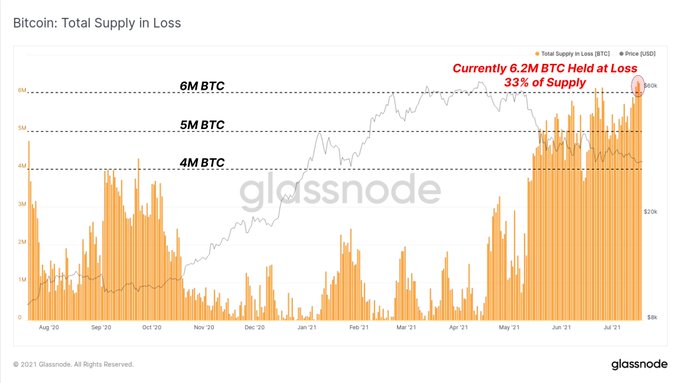 The unrealized loss includes the depreciation of an asset that has not yet been sold. Hence, 6.2 million BTC will continue to be held by investors at a lower price than when they were bought.
The low volatility was one of the main factors preventing Bitcoin from returning to its ATH levels as institutional investments have dried up. In addition, increased crackdown on BTC mining by the Chinese authorities has had a negative impact on this market.
Still, a recent Fidelity study showed that 70% of institutional investors will keep an eye on the crypto market in the future, which offers hope for the leading cryptocurrency.
Bitcoin's illiquid change in supply shows greater accumulation
Davis too noticed that BTC's illiquid supply change clearly showed that investors were amassing.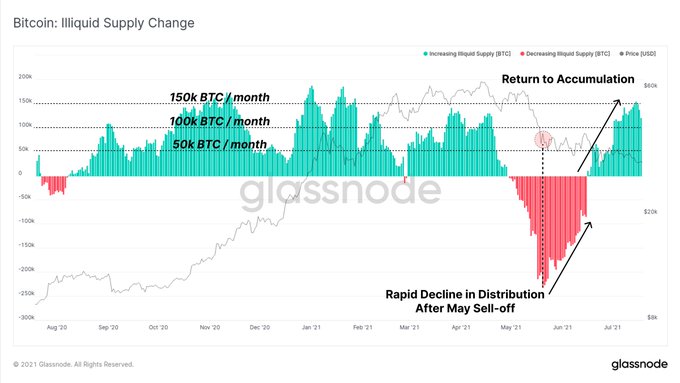 Bitcoin is therefore at a critical level of support as 10.5% of its offering was settled between $ 31,000 and $ 34,000.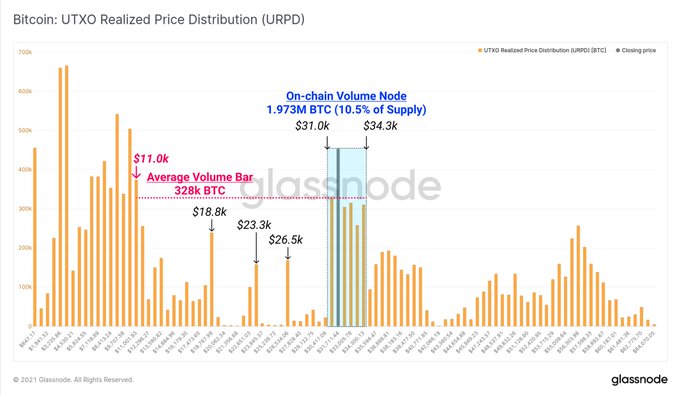 If that level is lost, the top cryptocurrency could be sold in a panic and cascade as more panic sellers could generate.
Bitcoin collapse?
BTC fell below the psychological price of $ 30,000 for the second time since mid-May on Tuesday, July 20. The entire crypto market was on the receiving end as nearly $ 98 billion was lost.
However, some analysts believe this is not surprising. Ulrik K.Lykke, Executive Director at Crypto / Digital Assets Hedge Fund ARK36, said:
"A decline below the $ 30,000 level is not surprising or overly worrying as BTC has been trading at the $ 30-34,000 level for more than 8 weeks and is struggling to get support above this barrier. In such market conditions, some investors can grow uneasy, particularly as Bitcoin and the general digital asset markets are facing increased regulatory scrutiny.
Bitcoin had gained some momentum in the past 24 hours, however, as it was up 3.36% and rebounded above $ 30,816 during intraday trading, so CoinMarketCap.
Ruud Feltkamp, ​​CEO of the automated trading bot platform Cryptohopper, said:It would be interesting to see if the rebound can sustain and hold its strength. If it tests the support again, "it is unlikely to see such a rebound and sell off to $ 23,000."
"As expected, Bitcoin bounced back after falling below $ 30,000. The support at US $ 30,000 is so strong that falling below this now almost magical threshold would almost always react with a jump. "
Image source: Shutterstock